Every pregnancy comes with a rush of emotions – surprise, nervousness, excitement. But when you weren't expecting to get pregnant, you might also add "fear" or "helplessness" to that list. If you find out you're pregnant unexpectedly, you need to know what to do next and how to find help. Keep reading for our tips on how to navigate this situation and what your next steps should be. If you are facing an unplanned pregnancy and you live in South Carolina, call or text Coastline Women's Center at 843-877-5653 to learn more about your options and the free services we provide to women and men in our community. We have centers in Conway, Myrtle Beach, and Little River.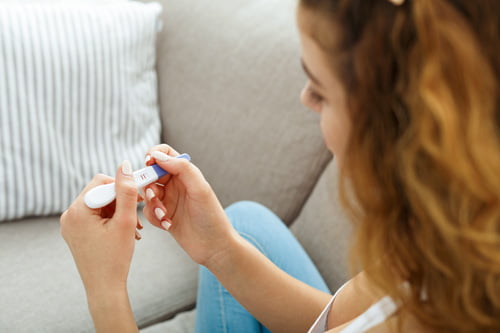 Don't Panic
The most important thing to remember when you find out you're pregnant is also the simplest – don't panic. It's easy to start imagining terrible outcomes, but just take some deep breaths and do your best to stay calm. Remember that women and couples deal with pregnancy and parenting every day. You're certainly not alone, and there will always be ways to get help.
Make Sure You're Really Pregnant
You would be surprised to find out how many women start worrying about being pregnant before they've even taken a test. While a late or missed period is a common sign of being pregnant, it's not foolproof. You need to take an accurate pregnancy test to ensure you're really pregnant. At Coastline Women's Center, we offer free and confidential pregnancy tests to any woman who needs one. Schedule an appointment today by calling or texting 843-877-5653 or request an appointment online.
See if the Pregnancy is Viable
Once you know you're really pregnant, you also need to make sure the pregnancy is viable. An ultrasound examination can tell you if your pregnancy is viable and if it is growing safely in your uterus. It can also tell you the estimated gestational age of your baby and the estimated due date. This information helps you plan ahead and tells you what options are available to you.
Learn About & Consider Options
Not sure whether you're ready to be a parent? You have a few different pregnancy options you should consider. Each one has its own upsides and downsides, but you will only be able to choose one for your pregnancy.
Parenting – Parenting is the most obvious choice, but if you aren't in a stable life situation, it can be difficult. We offer free parenting classes to help you be prepared for raising a child and give you the support you need.

Adoption Placement – Many agencies work with birth mothers to provide care and living expenses during your pregnancy. You can also control how much contact you get with your baby after the adoption is complete.

Abortion – Many women rush to consider abortion. However, you should be aware of the mental and physical side effects that abortion methods involve. We offer free pre-abortion assessments to any woman who is considering this option.
Consider What's Holding You Back
Many women are scared when they find out they're pregnant because they don't think they're ready to parent or to support a child. It can help to consider what you think is keeping you from being a good parent. That way, you can put effort into changing those things and be better prepared for parenthood. For instance:
If you're worried about supporting a child financially, try planning out a monthly budget and seeing where you can save on your current expenses.

If you feel like you can't become a parent because of your school or work schedule, try looking into free or reduced-cost parenting help near you. There are a number of organizations and resources that can help you manage your schedule.

Think you're not ready to become a parent just because it's scary or you don't have any experience? Remember that everyone feels that way at one time or another. You can always get support and learn about parenting skills from classes, groups, and online.
At Coastline Women's Center, we offer free classes on pregnancy, parenting, and life skills to whoever is interested.  Our Earn While You Learn program is designed to allow attendees to earn Mommy Money or Daddy Dollars that can be used to purchase items from our baby boutique which offers baby clothes, supplies, and other material resources.  All of our classes are free and geared toward individual and group settings that offer you support, accountability, and community.
Get Support and Help
It's natural to look for support and guidance when it comes to pregnancy. At Coastline Women's Center, you can get assistance with every part of your pregnancy, including free pregnancy testing, free limited obstetric ultrasounds, pregnancy options consultations, and referrals for medical, insurance, and community support. Call or text 843-877-5653 now to learn more about how we can help and schedule an appointment at one of our three centers in Myrtle Beach, Conway, and Little River.